Visit the Lounge (for LIVE Audio/Video/Chat)

Show is LIVE Wednesday 5-6
(8pm Eastern)
(musical pre-show starts at 4)

Live audio streaming is just the beginning. The live Webcam and the chat/video lounge on CitizenX.com make the Feel The Love show a unique digital experience.
Find out why over 1000 people tune in each week.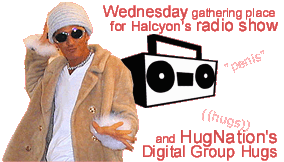 Audio is streamed by Live365.com
Video is streamed by CitizenX.com
Hosted By Halcyon
Produced by Nosajg

Topics run the gamut from mutts to gams. Call in to the studio toll free (coming soon)
HugNation follows the show at 6pm.
watch the Flash "manamana" movie